RESTORING THE BEAVERHEAD VALLEY SINCE 1994. YOUR DILLON, MT ROOF REPAIR PRO
CAN YOU REPAIR HAIL DAMAGE TO RANCH BUILDINGS?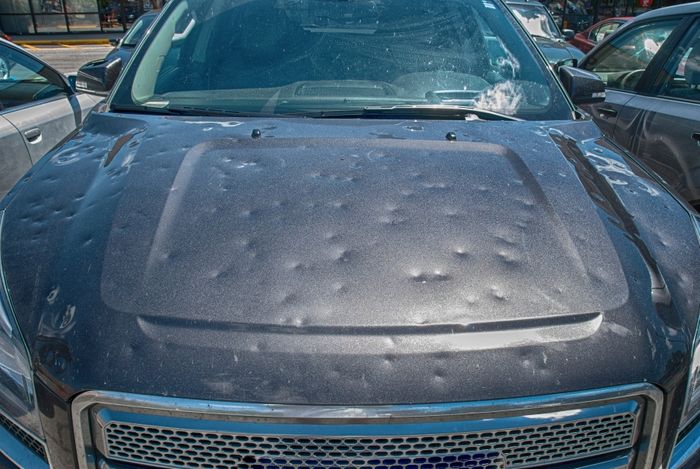 Hail Damage to Roofing and Siding
If your farm home, ranch house, barn, outbuilding or other metal building was compromised in the recent weather events here in Dillon, MT and throughout the Beaverhead Valley we can offer the best of the best in siding and roofing solutions. Hopefully, we can answer some questions or concerns you may have about roof repair or replacement and provide some viable siding and roofing options that are worthy of looking into.
One question that we hear all the time is, "Does paintless dent repair like seen at auto body shop really work on metal roofing and steel siding?" Insurance companies like to tell you that it does, but does it really? Well, it works great on cars and pick-ups but the issue is a difference in the gauge of metal used on the different steel siding and metal roofing products. The paint is the largest difference. Typically automotive paint systems are a softer, more flexible, and multi-layered type of paint. When an automobile suffers a dent or ding the paint is typically not shattered or fractured. They call it paintless dent repair because typically the paint isn't damaged from the dent that occurred. With your typical steel siding or metal roofing, the steel is a 24-29 gauge steel, autos are usually 16-20 gauge steel. This means that metal roofing materials and sidings are lighter in weight however the paint is harder and designed to resist scratching, and fading. So if hail does enough damage to puncture your roof, it will typically do enough damage to harm the paint as well. As roofing contractors working in hail devastated regions we have seen roofs punctured thru by hail, but mostly they are just dented up a bit. What happens on impact is that the paint is shattered or spidered. When the dent pops out, so does the paint or coating.
As metal roofing contractors specializing in Beaver Valley, MT roof repair and replacement we usually don't consider insurance company's recommendations when it comes to paintless dent repair. While we can pull the dent out, you might be left with the cost of repairing the paint as well. This is something that the insurance adjuster never considers leaving you to burden the cost of that paint yourself. If you are working with an insurance adjuster to restore your home to its original beauty and condition we can help. We are experts dealing with insurance claims and helping you walk through the process. Contact us to figure out how you could get the money and repairs you deserve!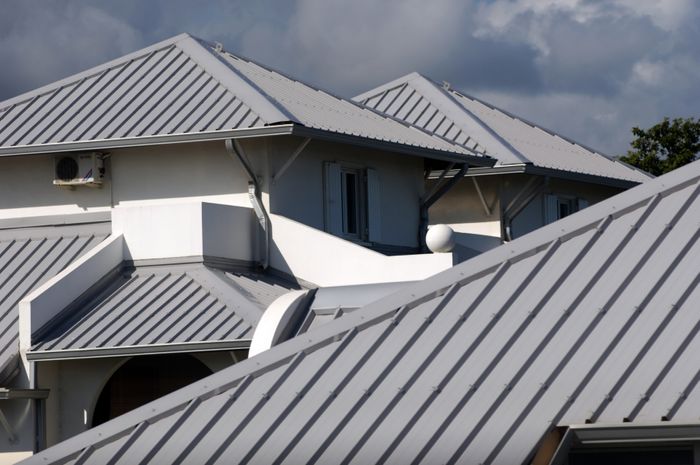 WHAT IS THE COST OF METAL ROOFING
Does Metal Roofing Cost More than Shingles?
One question that always comes up when discussing building repairs, damaged siding or roofing, and insurance claims is how much does a metal roof cost? At America's Choice, we want you to know the facts concerning metal roofing quality, your choices available, what types of metal roofing may be the best for you and your home, and the overall value versus the cost of metal roofing.
As metal roofing contractors we believe a concealed fastener roofing system, standing seam panels, or stamped metal shingles are your best value. The quality and cost alone will leave you wondering why this wasn't something that you did sooner. We know that exposed fastener systems have never stood the test of time for several reasons. The old saying, "Nothing is more expensive than cheap" is reinforced constantly with exposed fastener systems like Tuff-Rip or other flat metal systems that are fastened through the face or surface using grommets or screws and washers. A flat metal sheet will expand and contract at different temperatures than whatever it is fastened to (wood, steel, and, aluminum), thus it slowly loosen the fasteners over time. Eventually, the sun's ultraviolet rays will deteriorate the washers. Needless to say, your flat metal roof will need a lot of maintenance over the years, and this needs to be considered when evaluating the overall cost of metal roofing.
Most quality Standing Seam Metal Roofing Systems or Stamped Shingles can initially be priced at $700 to $1,400 per square foot compared to $400 to $900 per square foot for quality asphalt shingles. The initial cost of metal roofing can be double or triple the price of asphalt shingles. However, the overall build quality and amount of time it will last far outweighs that initial asking price.
Our Montana Insurance commissioner suggests an asphalt roofing system will have to be replaced every 7-10 years, whereas a metal roofing system has an expected life span of over 50 years. The exceptional strength and durability of quality metal roofing systems will not only stand the test of time but as an investment, they pay off in many ways.
It is a one-time investment

Expected Insurance Discounts

Increased Energy Efficiency

Very Little Maintenance
Get our FREE Comprehensive Metal Roofing Buyer's Guide by subscribing by email below. We look forward to visiting with you about our best siding & roofing solutions available today. When it comes to Beaverhead Valley, MT roof repair and replacement we are your experts!
WHAT TYPES OF METAL ROOFING IS RIGHT FOR ME AND MY HOME?

INTERESTING FACTSABOUT BEAVERHEAD COUNTY, MONTANA
Did you know that the Beaverhead Valley or Beaverhead County is the largest county by area in the United States with a population of under 10,000 residents? That is only two residents per square mile. The Beaverhead Valley is known for being one of the largest cattle and hay producing areas in Montana.
Bannack was the scene of Montana's first gold strike and went on to be the first territorial capital. The Battle of the Big Hole was carried out along the banks of Trail Creek with the Nez Perce Indians in 1877. One of the best sightseeing tours is the tour of Bannack State Park. It is located just 26 miles southwest of Dillon and offers gold panning, camping, picnicking, and walking tours.
Lewis and Clark explored many sights including Beaverhead Rock, Clark's Lookout, Camp Fortunate, and Gibbons Pass.
Other great spots in the Beaverhead Valley include Dell and Jackson, near the headwaters of the BigHole River. The Jackson area offers fishing, hunting, skiing, snowmobiling, and promises recuperative hot springs and mineral pools.
To find events or a place to rest check out, https://southwestmt.com/calendarofevents.
Emergency Roof Repair or Replacement
If you are concerned about the condition of your roofing and siding after a weather event we are you go to local roofing contractors for emergency roof repair or roof replacement. We're here to help you secure your home or business and get you back to whole. Serving Bozeman, Great Falls, and surrounding areas.
Call us today!